CHIARA'S DREAM: A SUMMER OF FREEDOM WITH HER FRIENDS OF THE HEART
Chiara is a young woman who, together with a group of friends, turns to ilmiofumetto.it to make a special gift to her friend Giulia. The idea is to represent a scene in which the cheerful group of 4 friends chat amiably dreaming of a summer full of adventures, travels, special moments. With the help of our Davide we create a beautiful black and white illustration, which we then print on a rigid panel. Giulia receives this original gift comfortably at home a few days later. Another commission completed in record time ... and 5 star review!
Only with ilmiofumetto.it you can choose from over 50 different 100% customizable proposals by identifying the designer that's right for you! Check out the style gallery and choose your favorite! Request a free quote.
Disegnato da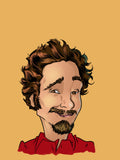 Davide
Stile
Cartoon
Prodotto

Short comic
Richiedi un preventivo!