LAURA GIVES HER SISTER A CUSTOMIZED CARTOON ABOUT MARRIAGE PROMISE
Laura, from the province of Milan, will be her sister Serena's best man. In addition to having to organize a lot of things for her (reception, bachelorette party, various decorations) she decided to contact ilmiofumetto.it to commission a short personalized comic that tells her love story with Yuri, her future husband.
We can only agree that this is a simply unique and great idea!
The gifts for the promise of marriage are usually given by the future husband to the betrothed (and so it was also in the case of Serena and Yuri) but here Laura really wanted to capture the moment in which the promise took place: the mother scene of the comic strip. Other key moments in the story between Serena and Yuri revolve around it. A tazebao of emotions that Laura has entrusted to the skilled hands of our immense Davide, leading artist of our team.
The result was nothing short of exceptional: a small masterpiece of 7 vignettes, illustrated with skill and taste and printed on canvas of size 30x40. A precious gift for Serena, which contains the love of her sister and that of her husband!
Ilmiofumetto.it boasts almost 30 products in the catalog and a team of professionals trained in the best comic schools in Italy, able to draw in every possible style . We also guarantee that we are committed to finding the best solution for your pocket. If you have a budget we will suggest the best possible option for you. We have a customer service that is always active and able to assist you at any time. Read our reviews and you will find out why almost 200 customers gave us 4.9 !!! What are you waiting for! Ask us for a quote now and create your personalized comic book!
Disegnato da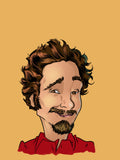 Davide
Stile
Cartoon
Prodotto

Short comic
Richiedi un preventivo!