COMIC BOOK FOR SUPER PIETRO AND ULTRA LORENZO: WHEN MOTHER'S LOVE TURNS HER CHILDREN INTO SUPERHEROES
Mamma Sara lives in the province of Verona, in one of the most beautiful places in Italy. On the occasion of the two years of Lorenzo, the eldest son, he decides to commission us a personalized comic that tells the story of Lorenzo and his brother Pietro, in the role of two superheroes engaged in an epic adventure!
In order to achieve all this, we relied on Kenji, a volcanic screenwriter, who, based on some elements provided by Sara about the two children, manages to create a fantastic story that sees the younger of the two children, "Ultra Pietro", go hunting for the malefic "Lamp Eater", a simian villain who feeds on lamps and light bulbs. How will the battle for the recapture of the light go?
Working with Sara was easy because right from the start she proved to be very collaborative and helpful. We easily chatted and shared our Drive to allow her to upload, number and name the photos. The work was entrusted to Davide who was able to illustrate all the moments of this pressing story with his usual skill.
We were able to create a 24-page paperback photo book, with a hard and embossed cover, in a humorous style, in color and with double-page cartoons.
Sara was so satisfied with our work that she has already booked for the sequel to be made for the birthday of "Ultra Pietro" in October! We sincerely hope that the two baby superheroes enjoyed our personalized story too!
If you want to make a truly unique and special gift to the people you love, ask the best. Ask ilmiofumetto.it for a quote without obligation and ... give an emotion!
Disegnato da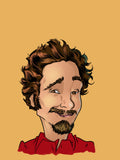 Davide
Stile
Cartoon
Prodotto

Custom comic
Richiedi un preventivo!