A MANGA COUPLE AT GIGLIO ISLAND
Andrea turned to ilmiofumetto to create a manga-style illustration to print in a frame with a frame to give it to his partner, in view of a very important anniversary. 20 years together are not a walk in the park and we need to celebrate with a symbolic gift.
This is why Andrea has decided to represent the scene in the place where their love blossomed: the magnificent island of Giglio, in the Tuscan archipelago. The work was done by Max, a very good mangaka, now specialized in this kind of commissions.
On the day of Ferragosto ilmiofumetto celebrated together with these two nice guys.
Disegnato da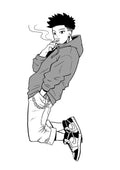 Max
Stile

Manga