RECORD TIME COMMISSION FOR MARY!
When Maria contacted us we immediately got the impression that she was in a hurry. And indeed it was ... she absolutely needed an illustration in record time: in just 6 hours we would have had to find an available designer and complete the commission.
We did not lose heart and we immediately identified in David the right man for this thing. In no time we passed the brief and after an hour we already had the first draft. Intense exchange via whatsapp that the increasingly anxious Maria until the evening, when we were able to deliver the complete illustration.
A small masterpiece by our Davide!
With ilmiofumetto.it you always have the guarantee of a very high quality work completed quickly and respecting the deadlines. Plus you can choose from a wide variety of styles thanks to our artist gallery .
Ask for a no obligation quote. We are also the fastest to answer you! In less than 1h you will have your free and personalized quote.
Disegnato da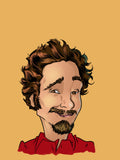 Davide
Stile
Cartoon