TABLEAU DEDICATED TO A NATURAL WEDDING
Stefania is organizing her brother's wedding. Are there less than two weeks before the wedding date and do you have a last minute idea? Why don't we make a comic that tells the story of the couple?
Fantastic idea, but there are no times, unfortunately ... a comic, however short, requires technical times for realization, shipping and printing. This is why we suggest Stefania opt for a single illustration that can be printed on a large format and then initialed with signatures and dedications from the guests.
Max, creates a beautiful manga-style illustration that depicts the spouses in a heavenly setting (Val Gardena), as the two are passionate about the mountains. Wands in hand the newlyweds set out on the long path of their love.
Greetings guys!
Disegnato da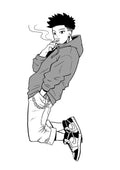 Max
Stile

Manga