A GIFT FOR THE BEST FRIEND, OF COURSE WITH MY COMIC
Valeria contacted us to commission a very special gift: a realistic style portrait for her best friend. Marta, very young and super talented new entry of the ilmiofumetto staff, created a beautiful watercolor illustration.
Valeria wanted to represent her friend together with the things she loves the most: her motorbike, the sea, the warm light of the sunset and her sweet kitten.
We suggested to Valeria a 30x40 canvas print, strictly unframed. More elegant and versatile. Result? Obvious! A new 5 star review!
Disegnato da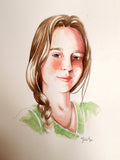 Marta
Stile
Realistico
Prodotto


Richiedi un preventivo!