ANNA DA NAPOLI SIMPSONIZES THE WHOLE FAMILY!
Anna is a beautiful Neapolitan lady who, after arriving on the pages of our site, decided to contact us to make a nice and original gift to her husband, on the occasion of his birthday: a beautiful SIMPSONIZATION. Oh yes… Anna and her family have turned yellow, thanks to this product of ours which is successful above all for the quality of our designs. Hanna decided to adopt the classic Simpson home wallpaper (purple walls, sofa, crooked painting etc) and to place the whole family on the sofa. The two cats of the house instead give a good show of themselves on the carpet and on the TV. Illustration created by the talented and super versatile Giulia. Anna opted for a gingham print with a natural wood frame. We had to work with a certain speed because Anna had to go on a cruise with the family. But in the end, as always, the mission was accomplished and Anna gave us a 5-star review, in exchange for emotions and lots of fun!
Disegnato da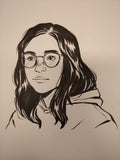 Giulia
Stile
Cartoon
Prodotto
Simpson
Richiedi un preventivo!