ARTS AND CRAFTS IN COMICS FOR MAXIMUM ... FOR SALE IN THE MARKETS.
Massimo contacts us from the province of Genoa. He is a craftsman who lives on fairs and markets and he turned to ilmiofumetto.it because he wanted to create something unique to offer to his customers. Among the most requested products there are in fact those images, usually printed on ceramic, aluminum or wooden tablets, which represent the arts and crafts: the baker, the plumber, the shoemaker ... but also the dentist, the upholsterer, the master, etc. This is why Massimo asked us to create a series of personalized images that he can then print and sell at his stall.
We have entrusted the task to our Giulia who has created a dozen characters. Massimo will contact us shortly to create new characters, once the market season kicks off with the beginning of spring. See you soon Massimo and good luck!
Disegnato da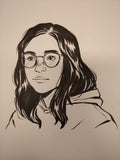 Giulia
Stile
Cartoon