COMIC EMOTIONS FOR VANNINA, VINCENZO AND VERONICA
Vannina, contacted us almost a year ago. He absolutely wanted to make a custom comic that told the first 10 years of his daughter Veronica. He had very clear ideas right from the start but it was not easy to complete this work: in fact we had a first difficulty linked to the choice of the designer which took us some time and then it took us weeks to write the screenplay. This is because Vannina and Vincenzo were very scrupulous and planned every scene down to the smallest detail. The search for the photos was also very long and Vannina has often changed her mind about everything.
Yet, we are very passionate about this project and we have tried to satisfy Vannina in all respects. Because Vannina, Veronica and Vincenzo are a special, unique family. A deaf-mute family for generations. But this is not their uniqueness: what struck us most about this family is the unconditional love for Veronica and the unity that binds her to grandparents, uncles, cousins. Even though it took us months (our Davide is a saint !!) the work was very satisfying and we are sure that Veronica will appreciate this comic too!
Disegnato da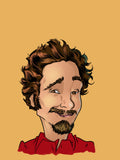 Davide
Stile
Cartoon