FRANCESCA AND VALENTINA, COMICS FRIENDS, ON THE NORTH SOUTH WEST EAST COVER
Francesca was honored by her boyfriend and future husband in one of our custom comics. We are happy to have told their love story. The comic was so successful that it was a real promise of marriage and the two decided to get married (as soon as all this pandemonium is finally over!). Don't imagine how proud we are of this!
Well Francesca came back to us as a customer and asked us to create a comic cover for a dear friend of hers. Basically we took the cover of the famous 883 album "Nord Sud Ovest Est" and transformed it into a personalized illustration for Francesca and Valentina.
Our Davide, the official caricaturist of ilmiofumetto.it, who had already drawn the comic for Claudio and Francesca, took care of the work. Result centered in full and great happiness of Francesca who has already told us to keep us ready to make comic favors for their wedding !! Once again we go home with 5 stars !!
Ilmiofumetto.it boasts almost 30 products in the catalog and a team of professionals trained in the best comic schools in Italy, able to draw in every possible style . We also guarantee that we are committed to finding the best solution for your pocket. We have a customer service that is always active and able to assist you at any time. Read our reviews and you will find out why almost 200 customers gave us 4.9 !!! What are you waiting for! Ask us for a quote right away.
Disegnato da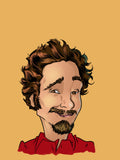 Davide
Stile
Cartoon