GARIBALDI MAKES FUROR ... AND BECOMES AN ICON!
Domenico is a young entrepreneur with a very specific idea in mind ... so he calls us and explains it to us. Since it is the launch of a new product we will not reveal too much of this story. Suffice it to say that the absolute protagonist will be the legendary Giuseppe Garibaldi! Well yes, you got it right ... the hero of the two worlds takes the field with his almost mythological and at the same time ironic aura. We clearly perceive it from the scenes that Domenico asked us to create: they exude irony, irreverence, a touch of Romanism '... in short, we too are very curious about the direction this project will take.
We have entrusted these illustrations to our talented Marta who has perfectly captured the spirit of the initiative, perfectly reproducing the almost bucolic atmospheres that are the context for this iconic character with a worldwide charisma!
Coming soon on these screens, then!
Disegnato da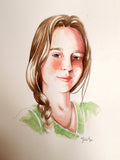 Marta
Stile
Realistico
Prodotto


Richiedi un preventivo!