THE SPANISH TENNIS PLAYER TAKES THE PITCH!
Adele from the province of Avellino, would like to give a gift to a Spanish friend, a tennis player (apparently bravina). Her idea is a humorous caricature of her playing tennis and a message of good wishes. All printed on a light forex panel (30x30). We entrust the task to the formidable Davide De Marco (already seen at work with Pastryman!) Who here demonstrates his portraitist talent and skilful use of color.
The result is very pleasant… .and Adele thanks!
Ask for a quote and discover the caricatures online : we have expert caricaturists in our team who are able to satisfy all the needs of our customers in terms of style and availability. And if you want we can print them (on a painting, canvas, panel or poster) and send them to your home! Only with ilmiofumetto.it!
Contact us now, without obligation ...
Disegnato da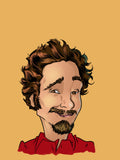 Davide
Stile
Cartoon