CARTOON STYLE FAMILY PORTRAIT FOR ANDREA
Andrea turned to ilmiofumetto.it to create a large cartoon-style color illustration in which all the members of his family, including pets, were represented. The scenario requested by Andrea to set the scene is very bucolic and allow us also a little Hippy. Volkswagen van from the 60s (that of the Californian surfers to be clear), lush nature, animals and children running around on lush and colorful flowering meadows, under the watchful eye of mom and dad.
We entrusted this task to Davide (after realizing that the first choice we had chosen Andrea was not correct) who created a truly powerful illustration made even more impactful thanks to the large surface printing (90x60). It was a memorable job that fully satisfied our Andrea and gave us a 5-star review. Delivery on time (as always!). If you like this product take a peek here !
We at ilmiofumetto.it can realize all your ideas: from personalized comics, to illustrations, to cartoon-style caricatures, to simpsonizations. Over 30 products in the catalog and the only ones in Italy to boast a community of artists trained in the best comic schools in Italy, able to draw in every possible style . A team of consultants ready to find the best solution for your pocket and your requests. A customer service that is always active and able to assist you at any time. Ask us for a quote now and put us to the test! If you have an idea, we make it possible! Read our reviews and you will find out why almost 200 customers gave us 4.9 !!!
Disegnato da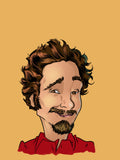 Davide
Stile
Cartoon