A STRIP FOR DAVID
Davide asked us to create a strip of 4 cartoons in a caricature style, very simple, in black and white and strictly ... silent. Yes, you got it right, no cartoons just the narrative power of the images. 4 moments of what seems to be a love story between him and a beautiful long-haired girl. A story that exudes poetry and romanticism and in which the absence of the word is filled with what the two protagonists know, without having to describe or quote. What matters is the "photographed" moment, the magical moment that takes on an intimate and precise meaning for David and his beloved. A special dedication that we have entrusted to Francesca's delicate and clean line. The result is a polyptych of rare beauty.
If you are looking for unique and precious gift ideas, create a short comic with ilmiofumetto.it. Few cartoons, simple stories straight to the heart.
Find out more and ask for a free and fast quote
Disegnato da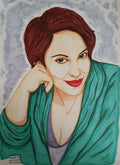 Francesca
Stile
Cartoon
Prodotto

Short comic
Richiedi un preventivo!