CLAUDIO AND FRANCESCA, THE STORY OF A CARTOON LOVE
Claudio contacts us from Rome. His idea is to make a very special and unique gift to his girlfriend. So, looking on Google in search of original gift ideas, he comes across our site
ilmiofumetto.it
and in the
gift ideas
section he
finds the right inspiration: a personalized comic to tell the comic love story with his Francesca.
We immediately direct Claudio to the gallery of humorous styles because he wanted a cartoon trait for this work. Ilmiofumetto.it is the only one in Italy to offer a service for the creation of personalized comics, giving the customer the opportunity to choose from many different styles: humorous, caricature, cartoon, realistic, manga and so on and so forth.
Furthermore, Claudio was able to avail himself of the help of professional screenwriters. Even though they already have very clear ideas, in fact, our writers and storytellers can suggest very original and wired narrative solutions on the subject proposed by the client to improve the narration and minimize costs.
Claudio's choice fell on Davide, writer and cartoonist of indisputable talent. And his choice paid off. The comic book commissioned by Claudio was a very complex job, which required a continuous comparison. Here at ilmiofumetto.it you can count on 24/7 assistance from a project coordinator responsible for all stages of processing and an indispensable link between the client and the artists. Thanks to the coordination work, the customer views all the processing phases and is constantly involved and updated.
In this way there are no nasty surprises because the whole process is supervised directly by the customer. And this is what Claudio had the opportunity to experience: a creative journey that led him to the conception of an absolutely unique and tailor-made product, like a tailored suit!
We are particularly proud of this work: a splendid 32-page volume, paperback, full color with hard cover. Claudio was also fully satisfied and gave us 5 stars !!
If you too are looking for an original gift to do perhaps for next Christmas, stop looking for useless and futile gifts and take a look at our gift ideas .
You will surely find the one that suits you best. Ask for a no obligation quote using the form below. We will reply in less than 1h !!
Disegnato da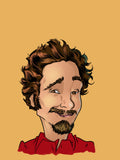 Davide
Stile
Cartoon
Prodotto

Custom comic
Richiedi un preventivo!