ILMIOFUMETTO CREATES ILLUSTRATIONS FOR A NEXT RELEASE BOOK
We cannot reveal the title and author, nor when this book will be released in bookstores, but we hope it will be a best-seller. Because Giovanni, the author of the book, asked us to make some illustrations and we are very proud of it!
Disegnato da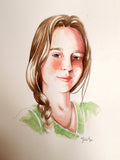 Marta
Stile
Realistico
Prodotto


Richiedi un preventivo!