COMIC CORONATION FOR THE KING OF TASTERS
Carlo is a legend in the world of Nocino. Crowned by the prestigious order of Nocino Modenese as the best producer in the province of Milan, he contacted us to commission us a job. It is a table composed of two cartoons that have three friends as protagonists. Among these stands Egidio, a nice gentleman who has distinguished himself over the years for having accumulated dozens of taster and tasting diplomas: from culatello, to lambrusco, to traditional balsamic vinegar of Modena ...
In this strip Egidio accompanies his two friends Carlo and Emilio in the lands of Reggio Emilia to an unknown destination. They travel aboard the legendary Alfa Duetto Spider (they are all 3 passionate Alfists!) And are intrigued by the aura of mystery that surrounds Egidio. In the second panel the mystery is revealed: Egidio is gored by a charming young lady, King of the tasters! The coronation takes place in the scenario of a cellar full of barrels of traditional balsamic vinegar, with cold cuts and cheeses of all kinds hanging from the ceiling.
This nice scene was printed on a light panel in 30x40 format and will be a truly appreciated gift by Egidio, the King of tasters!
If you want to create a custom comic, turn to the best. Ask for a quote at ilmiofumetto.it! You can choose from over 30 different creative proposals and we will be able to find the best solution for you, adapting it to your budget. 100% personalized comics, even in the cost!
Disegnato da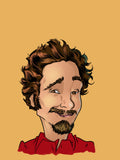 Davide
Stile
Cartoon
Prodotto

Short comic
Richiedi un preventivo!