PARTICIPATIONS IN COMICS FOR TARIN AND KEVIN
Tarin from Reggio Emilia and his partner Kevin have decided to get married, after years of living together and two magnificent girls. As they are an unconventional couple, they decided to turn to ilmiofumetto.it to create cartoon-style wedding invitations. Tarin wanted something simple and witty, but at the same time refined. For this work we turned to Francesca who has a very effective but never grotesque caricature style. We proposed to Tarin different layouts for the front and back in order to merge text and image in a harmonious and balanced composition.
We suggested the type of paper (Tintoretto gesso, white with a porous texture and rough to the touch) and format (a traditional 13x18). For the printing we turned to a supplier who could customize the number of copies (Tarin wanted 140). Within two weeks we made and delivered the invitations, to Tarin's great satisfaction!
Happy Newlyweds!
Discover all our proposals dedicated to marriage in the wedding collection of ilmiofumetto.it or request a quote without obligation. It is fast and easy!
Disegnato da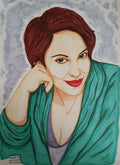 Francesca
Stile
Cartoon
Prodotto


Richiedi un preventivo!