HISTORY OF COMIC MAGNETIC RESONANCE FOR THE DOCTORATE OF ROBERTO, PHD IN COIMBRA, PORTUGAL
Roberto from the University of Coimbra is a science popularizer and has already turned to us in the past to create a personalized comic on the scientist Isidor Rabi. It was a scientific storytelling for the discussion of his thesis on the research doctorate.
In this case we drew a short comic story that told the story of Albert and his father, a scientist who manages to pass on to his son the passion for research in the field of atomic physics.
The comic was created by our Giulia, a talented designer who took care of giving life to the story, dividing it into 5 color plates in a humorous style, as requested by the client. We also translated the comic into English so that Roberto could also publish it internationally. Roberto was extremely satisfied and we hope that his comic book dissemination work will have the success it deserves!
If you are looking for an original gift idea, for any occasion, contact ilmiofumetto.it without hesitation: we have over 30 products in
the catalog
to satisfy every taste and wallet need. You can also count on over 40 different
drawing
styles
, including realistic, humorous, cartoon and manga. Our customer service will not only assist you in every step of the creative process, but will assist you in recommending the best possible solution. That's why almost 200 customers gave us a rating of 4.9 out of 5 stars. Read our
reviews
!
What are you waiting for ?! Ask us for a quote now and create your personalized comic!
Disegnato da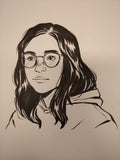 Giulia
Stile
Cartoon
Prodotto

Short comic
Richiedi un preventivo!