A SPECIAL GIFT FOR MARINO
Carlo had already contacted us for a gift to a dear friend. It got along so well that he decided to commission us a new custom comic. Marino, Carlo's friend, is a nice character who is interested in tasting. In its super-stocked cellar we can find all kinds of food and wine delicacies. It is not easy to give a gift to such a guy (at least in the food sector!). So Carlo thought of ilmiofumetto.it to find a truly original and unique gift idea. So we prepared a panel print with two black and white vignettes masterfully illustrated by our Davide.
If you are looking for a truly original gift idea, ilmiofumetto.it is able to offer you a wide variety of fun, exciting and unique proposals.
We are the only custom comic creation site in Italy that boasts a team of professional and qualified artists to give our customers the opportunity to choose from dozens of different styles.
Visit our section dedicated to gift ideas and find the one that's right for you.
The WOW effect is guaranteed! Ask for a free quote now. We will reply in 30 '!!
Disegnato da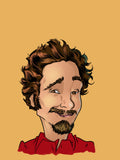 Davide
Stile
Cartoon