ZACK AND VALE: PARTICIPATIONS IN COMICS FOR TWO BOLOGNESI DOC
Giorgio and Valentina are a nice couple from Bologna who will get married next summer. Vale and Zack (as the two lovebirds are called to each other) have commissioned us to create their wedding invitations. The boys had very clear ideas and sent us some preparatory sketches that left no room for ambiguity.
We followed their instructions and entrusted the task to Davide, an expert caricaturist.
The participation was made on cardboard with a portfolio fold of rectangular format on heavy weight paper. These are 4 scenes that describe the moment in which Giorgio asked Valentina to marry her, making a very romantic ring of intertwined blades of grass for her. The result thrilled the newlyweds and gave us the satisfaction of a 5-star review.
If you are organizing your wedding and are looking for truly original and nice ideas, trust ilmiofumetto.it. We have a collection exclusively dedicated to weddings: from wedding comics, to invitations, to wedding favors, to the tableau de mariage, to the video comics ...
Contact us and ask for a no-obligation quote !
Your data is processed in accordance with the current privacy legislation regarding the protection and processing of sensitive data.
Disegnato da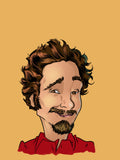 Davide
Stile
Cartoon
Prodotto


Richiedi un preventivo!